Master Data Management

Asset Management

SAP End User Enablement
1. MASTER DATA MANAGEMENT
SIDCOTech helps organisation to maintain their master data in highest standards to reduce the inventory cost through data cleansing & enrichment, data classification to ensure Completeness, Accuracy, Consistency, Uniqueness and reliability in enterprise's inventory database.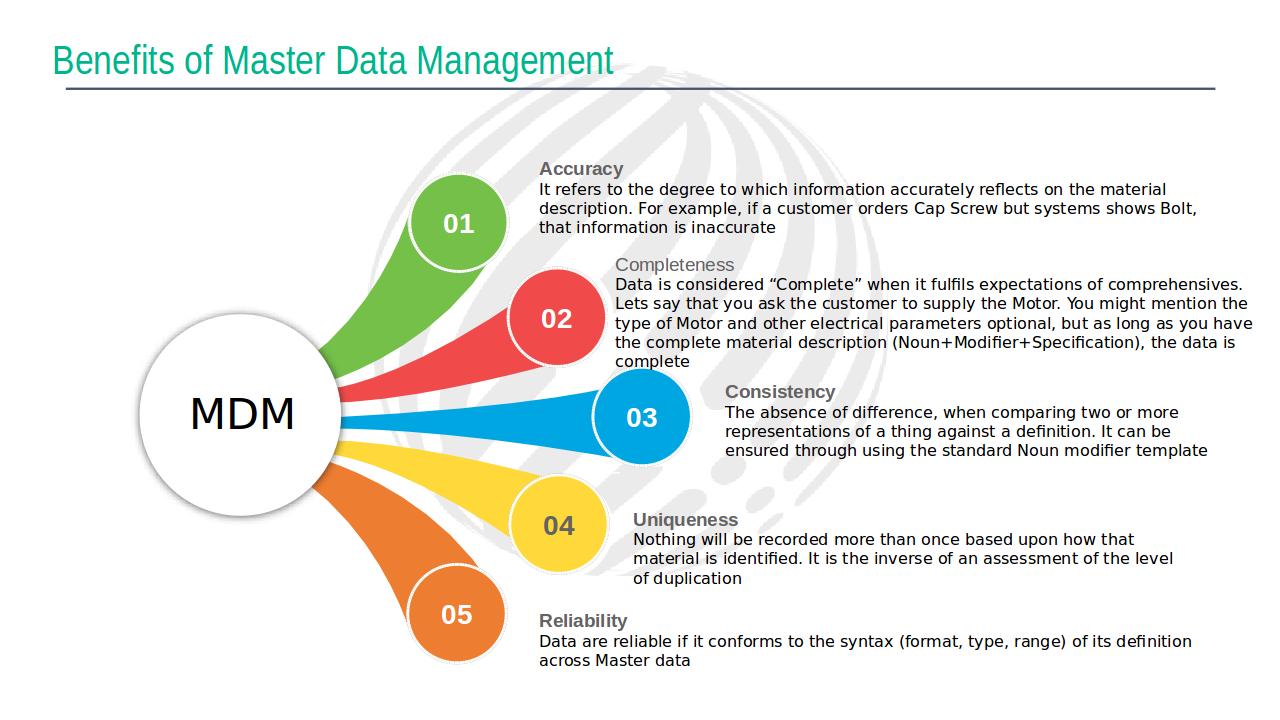 1.1.1 DATA CLEANSING & ENRICHMENT
Data Cleansing:
It is a process to remove the unwanted and irrelevant information from material description. The goal is to get further insights from the existing data to improve our customer purchase or sales approach.
Data Enrichment:
Product information that is enriched with relevant and accurate descriptive details from the manufacture website for enable our customers to make better decisions on the purchase or sale the product. SIDCOTech uses the global dictionary to assign the Noun and Modifier for each purchase or sale product along with standard attribute template. Below is an example for data enrichment.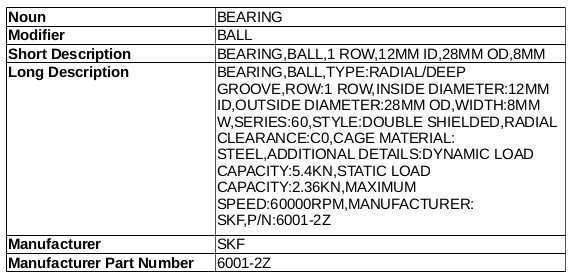 1.1.2 DATA CLASSIFICATION
SIDCO

Tech

classify the product with standard classification schema which are listed in below.

UNSPSC - United Nation Standard Product and Service Code
EOTD - ECCMA Open technical Dictionary
ETIM - European Technical Information Model
CPV - Common Procurement Vocabulary
NAICS - North American Industry Classification System
Below table shows an example for data classification.

2. ASSET MANAGEMENT
2.1.1. Equipment BOM
Equipment BOM is used to describe the structure of equipment and to assign spare parts to equipment for maintenance purpose.
3. SAP End User Enablement
SIDCOTech is an ability to handle the outsourcing project of Data Management activity from an organisation. It helps in minimizing overall cost, focus on its core competencies, meet customer demands more effectively and avail greater flexibility in maintaining and operating its supply chain.
Although technology plays a critical role in a supply chain management, It requires the support from end user to create the right information of material or service into SAP.
As a third party vendor, out team performs below listed data management activities to keep your supply chain running.
3.1.1. Material Master
It contains the information on all the materials that a company procures or produces, stores, and sells. It is the company's central source for retrieving material-specific data. This information is stored in individual material master records.
The material master is required for

In purchasing for ordering
In Inventory Management for goods movement postings and physical inventory
In Invoice Verification for posting invoices
In Sales and Distribution for sales order processing
In Production Planning and Control for material requirements planning, scheduling, and work scheduling
3.1.2. Customer Master
It is a database contains information about the customer or any business partner who plays a role in the business or who buy the finished products from an enterprise. This information is stored in individual customer master records. A customer master record contains the customer's name and address.
3.1.3. Vendor Master
It is a database contains information about the vendors who supply the raw material to an enterprise. This information is stored in individual vendor master records. A vendor master record contains the vendor's name and address, as well as data such as:
The currency used for ordering from the vendor
Terms of payment
Names of important contact persons (sales staff)
3.1.4. Finance Master
It is to setup the GL account, Bank details, Profit center & Cost center for vendor and customer to make all the payment transaction through SAP
3.1.5. Material BOM
A bill of material(BOM) describes the different components that together create a product. BOM contains the item number of each component, quantity required in the manufacture of a product and the unit of measure of the item.
3.1.6. Recipe
The master recipe is used for the manufacture of products. It consists of a header and several operations , each of which is carried out at a primary resource. An operation is subdivided into phases.